Our Newest Couture Additions
I Love Creating new couture products... Here are my latest Spring Designs!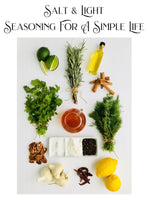 Spice & Sauce Culinary Course
Learn the art of Spice & Sauce Creation in this Culinary Course, Cookbook and beautiful printable labels to organize your pantry.
You'll Be Organized & Dazzled!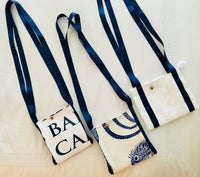 Crossbody Conceal Purses
Elegant Fresh French Coastal Purse which is lightweight, easy to clean, crossbody concealment purse. The outside is Linen / Cotton the inside is stiff canvas with a small velvet pocket.
Lovely & Fresh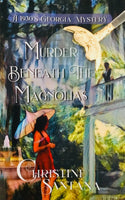 Murder Beneath The Magnolias
A Cozy Murder Mystery By: Christine Santana
Savannah, Georgia, 1932: The Swinging  Jazz Era
Ella Elizabeth Mayfair an acclaimed murder mystery writer hobnobs with the vibrant and wealthy of Savannah, Georgia's, high society. They all have their secrets, lies, and enemies while keeping up appearances. After Ella attends a dinner party the hostess is found dead. Ella finds herself accused as a suspect by a by the book police detective. 
Determined to prove her innocence she sets off on an adventure that has her sniffing out the real murderer. Little does she know she will find herself embroiled as a character in the middle of one of her own book plots. Her adventure is filled with vindictive Southern Belles, exciting twists, unexpected turns, double clues, red herrings, and sinister characters who act as sweet as peaches and cream. A 'who done it murder mystery' that will keep you intrigued and guessing until the very end. 
Available in Both Paperback and E-Book
First Addition Signed Book... Order Your's Today!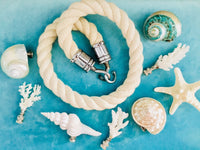 Shell Drawer Pulls & Coral Lamp Finials
Create a Beautiful Coastal Home and enhance your furniture with an instant naturally beautiful update. All of our shell drawer pulls and coral lamp finials are little pieces of art work, Hand Made with Love!
Best Seller!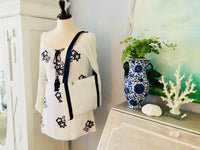 Blue & White French Coastal Purse Collection
Our Newest arrival, our lovely Blue & White French Coastal Purse Collection. Fresh, clean, elegant and lightweight.
Lovely , Bright & Clean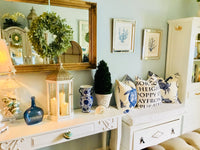 Blue & White French Coastal Pillow Collection
Vibrant, clean, crisp and Beautiful these pillows will bring a fresh French Coastal feel to your home.
Bring Art to Your Home!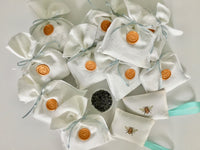 Lavender Dryer, Drawer & Hanger Sachets
A lovely organic healthy way to freshin linens, clothing & closets.
So Lovely... I want them!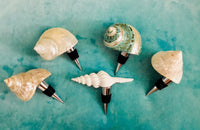 Shell Bottle Stoppers
These Beautiful Real Bottle Stoppers are perfect to place in that Bottle of Wine! Lovingly Hand Made and Inspired by the Beauty of Nature. Create a Gift Basket and adorn it with one of these beauties.
Available in five different shell types.  
Voted Best Seller & The Perfect Gift!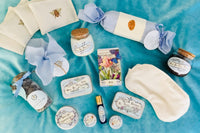 A Gift You Will Love, Honey Bee Organic Spa & Bath
Try our Lovely Natural Organic Skin Care Collection with Ingredients Formulated simply for Health, Beauty & Comfort.
Customer Favorites & Best Sellers!
Honey Bee Gift Cards
Give a Wonderful Gift to those you Love... With a Honey Bee Gift Card. The best part is they'll  choose their favorite Honey Bee Design for them self.
Gift Card, Yes Please!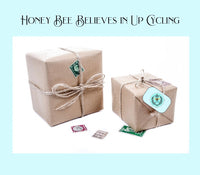 Up Cycling our shipping boxes
Here at Honey Bee we desire to leave less of a carbon footprint on our world. So we up cycle which is simply shipping our products out in boxes we have received our raw creation materials in. Instead of environmental, economical, and monetary waste of a new box to ship our beautiful hand made designs in. We reuse the boxes that we receive, by simply wrapping them in brown postal paper. Because lets face it, this box will be thrown away. It is the lovely contents inside that your desiring to receive and will be cherished for years to come....not the shipping box. So with this we thank you for your support and contribution to sustainable up cycling, and saving our environment one box at a time.
Testimonials
Yes it I opened it last evening and absolutely love them! You are a beautiful artist. The pillows are for me and the other items are gifts. I know my granddaughters will love them! I have to tell you your detail to marketing and shipping of your products is the best I have ever seen! Best of luck to you throughout 2019! Thanks

Dorothy Zavitz
We received our package today & were so excited to have these beautiful blankets for our grandchildren. Wrapping the babies up in the soft pink blankets was like wrapping them in a warm cloud. Lake Tahoe is pretty cold this time of year but these twin girls settled into the blankets softness & were asleep in a matter of minutes. The packaging was beautiful & I saved the ribbon to use as bows to dress up their favorite teddy bears. Thank You again for making a blanket that we are sure will always be their favorite . 

Grandparents Doris & Troy
I received my Travel Tote! Which I will use everyday as my new Purse. I love it! It fit perfectly over my shoulder. Its not to big for my shortness, lol! I love the pockets & the zipper, it is so soft. Best of all it looks very high fashion, its not leather, totally eco friendly & washable. I have been looking for a new purse for 3 years now & finally I have one I'm happy with.

I also just received a beautiful customized yoga Matt tote bag. It is so pretty I had to share! I love that its totally washable, lightweight & made of fabric. Thank you Honey Bee Maison Couture. Thank You!

Irma Perez
Dear Christine,
I am blown away by your thoughtfulness and incredible service! I received the lavender sachets this evening as I checked my mailbox. Your packaging/ presentation absolutely impressed me so much. Your sweet note was the icing on the cake!
I purchased the sachets for a friend that keeps bees and makes her own honey in Vermont. I know the sachets will be a hit when she opens the package in time for Mother's Day. I can not thank you enough for your quick delivery and incredible service. I am definitely going to order more items from your business.
I also plan to spread the word among my friends! Im so glad I found you!!
Thank you again,

Janet Utegaard
I Received your Beautiful shell drawer pulls. I love your personalization of packaging and everything !!

Thank You so much.

Cece 

Cecelia Koons
I bought an exquisite Travel Bag for a very dear friend. Every detail was carefully thought out and this bag held a personal touch for the recipient!

Thank You ....

Celeste Bowers
I have Several of Honey Bee Maison Couture's designs and everything Christine designs is perfect! Very High Quality and Beautiful.

Shannon Green
Christine has done quite a bit of Interior Design work for me over the past twelve years. She painted faux stone walls, a bamboo forest room, Venetian Plaster and a few other finishes. Her work is excellent. She pays close attention to detail. I would highly recommend her. I will be using her again in the future for any artistic design jobs. She is simply "The Best".

Thank You, Christine 

P.S. She also makes really cute handbags. :-)

Gail Ann
Your Parcel arrived safe & sound! What a beautifully presented order-thank you for the gifts inside- I love the mask & bookmark. I am going to give one of the pillow covers to a friend who used to own a well known restaurant in Vancouver called Cafe de Paris! He is French & I think he will be thrilled. I love mine & may need another one! You have lovely original touches.

Thank You

Shirley Clarke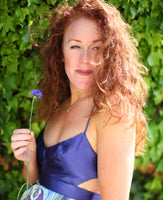 The Designer & Creator Of Honey Bee Maison Couture.
"I create Couture Life Style Designs, that are Eco Friendly, Inspired by Nature & the Majesty of Creation, they are hand made in The U.S.A & have artistic, authentic care sewn in with every stitch."
Christine Santana is an Artist & Interior Designer she has been working in interior design for over 29 years & continually creates new, beautiful & unique custom spaces & products for clients. Her Design Company offers Custom Murals, Breath taking Faux Finishes, Furniture Refinishes & Full Interior Design Services. 
"I place great care & artistic thought into everything I design & create. One's home should represent warmth, comfort & a style which welcome's friends & family & embraces its occupants."
To schedule an in Home Design Consultation visit my Interior Design Portfolio, a contact link is available from my design portfolio page as well as Design Package Pricing. 
Lets Take a Look!